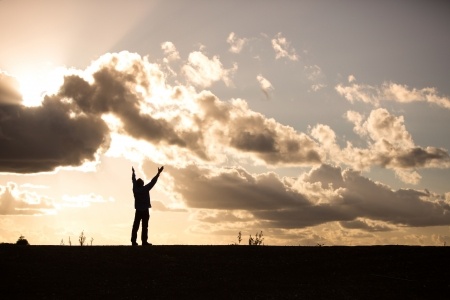 I love David's heart to pursue the presence of God. Consider Psalm 27:4,
Here's the one thing I crave from God,
the one thing I seek above all else:
I want the privilege of living with him every moment in his house,
finding the sweet loveliness of his face,
filled with awe, delighting in his glory and grace.
I want to live my life so close to him
that he takes pleasure in my every prayer. (The Passion Translation)
David longed to be surrounded by the presence of God and to simply delight in Him. Therefore, God could say of David, "he is a man after My own heart." Through worship, prayer and communion with God, David was elevated—living from His presence. David knew that God delighted in him and took pleasure in his prayers. That's confidence in God!
David was a worshipper at heart—his elevation began with a heart to worship and seek the face of God. Worship is not what we do, but who we are. Worship isn't just what takes place on Sunday mornings—worship is a lifestyle. Worship proceeds from our daily actions and behaviors. Worship involves our surrender and consecration to God (see Rom. 12:1).
Like David, to understand your call and destiny, you must be a worshipper who desires God's presence more than life itself.
Why? The essence of worship is intimacy with God. Through Jesus, God made a way to elevate us to where He is—to live from our new life in Him. When we learn how to wait on the Lord through worship, recognizing we are ascended with him through Christ, God reveals our purpose and path for destiny. We are united with Christ, positioned with Jesus in heavenly realms. God's Spirit is with us, but worship helps us to focus on the Father and stay aware of His perspective from His elevated place.
David consciously worshipped a living God—it became the underlying force in his life.
He wasn't perfect. In fact, he sinned and failed terribly at times. But David consistently worshipped and pursued God's presence through the highs and lows of life. David discovered that an undivided heart empowers genuine worship in Spirit and truth (John 4:23).
David wrote Psalm 51 after his fall with Bathsheba. In this song of repentance, his heart toward God is revealed. He confesses, repents, worships, and consecrates himself once again to God.
David acknowledges his sin and asks God for mercy, for forgiveness, and for cleansing. He understands that religious sacrifice is meaningless apart from true brokenness over one's sin. He asks God not to remove His presence or the Holy Spirit from him. David discovered through sincere repentance that God is merciful and forgiving. Then he prays corporately for the people of Jerusalem. David's restoration affects the city!
By the way, the pathway to freedom from iniquities, transgressions, and sin is through Holy Spirit-led repentance—it is a gift, often coming through encounters with God. If you need freedom, seek Him, pursue Him, and cry out for the gift of repentance that leads to forgiveness, cleansing, healing, and restoration.
David brings the Ark of the Covenant back into Jerusalem—2 Sam. 6. His heart of worship toward God is once again revealed. However, his wife, Michal, despises David because of his extravagant worship of God. But, years earlier, she loved him deeply:
"Now Michal, Saul's daughter, loved David." (1 Sam. 18:20 NKJV) Michal to David, "If you do not save your life tonight, tomorrow you will be killed." (1 Sam. 19:11 NKJV)She then helps David down through the window to escape. When confronted by her father Saul, Michal lies about why David escaped, "He said to me, 'Let me go! Why should I kill you?'" (1 Sam. 19:17 NKJV)
David flees from Saul, leaving Michal, Jonathan and the palace for the wilderness. God was preparing David to lead His people. After the death of Saul and Jonathan, David is made king over Israel. After subduing the Philistines, David desires that the Ark of the Covenant, which personifies the presence of God in the OT, be brought back to Jerusalem. As the ark enters Jerusalem, David begins to worship before the Lord with joy and freedom,
And David danced before the Lord with all his might, wearing a priestly garment. So David and all the people of Israel brought up the Ark of the Lord with shouts of joy and the blowing of rams' horns. (2 Sam. 6:14-15 NLT)
But Michal responds differently toward David's exuberant worship and the ark's arrival,
Then it happened as the ark of the Lord came into the city of David that Michal the daughter of Saul looked out of the window and saw King David leaping and dancing before the Lord; and she despised him in her heart. (2 Sam. 6:16 NASB)
Notice that Michal, "despised him in her heart." She derides David for his passionate worship of God. Then the final verse of this passage gives a final epitaph of Michal, she "had no child to the day of her death." (2 Sam. 6:23 NASB)She was barren. Her criticalness of David's worship caused her to be unfruitful, but her root problem was deeper.
Michal's lie regarding David years earlier created separation in their marriage. This became a point of offense, unforgiveness, and bitterness toward David—the man she loved. It kept her from true worship and abundant living. David didn't sin against her—but she blamed David. The sad ending of her life was that of bitterness and bareness—naturally and spiritually.
Worship is our love response to God and others.
Unforgiveness, offense, and bitterness hinder our intimacy with God and others. We become unfruitful—His grace is restricted in our lives. Hope fades, negativity and criticism build, and the result is loss of intimacy and unfruitfulness. But the very act of genuine worship elevates us in God—where we are positionally in Christ. 
Unfortunately, many never reach a place in their worship where they are elevated from one state of grace to another. We are being changed from grace to grace—from glory to glory (2 Cor. 3:18)! Many live below the level of their destiny: perhaps feeling defeated and without hope, or reason to have hope.
Life circumstances, poor choices, low self-esteem, and unforgiveness hinder many from true worship. But, these realities are not where God wants us to focus. Rather, he invites us to walk in his presence and abundant life—that's elevation. It begins by understanding your identity and adoption in Christ and then being courageous enough, like David in Psalm 51, to be honest with yourself and to God. Freedom and true worship are discovered through the humility of brokenness when we have drifted from God.
If we follow the path that David walked, then you and I will understand that worship is at the center of our lives—it establishes our purpose.
Consider what Paul wrote the Ephesians regarding the importance of true worship that transcends religious formalism. Worship that continues to fill us with the Spirit and live in God's presence:
So be careful to live your life wisely, not foolishly. Take advantage of every opportunity because these are evil times. Because of this, don't be ignorant, but understand the Lord's will. Don't get drunk on wine, which produces depravity. Instead, be filled with the Spirit in the following ways: speak to each other with psalms, hymns, and spiritual songs; sing and make music to the Lord in your hearts; always give thanks to God the Father for everything in the name of our Lord Jesus Christ; and submit to each other out of respect for Christ. (Eph. 5:15-21 CEB)
As we worship God in Spirit and truth, we walk in the reality of our ascension in Christ and are filled with the Spirit. We become more aware of the dimension of his Spirit and glory. Through worship, God gives us new insights to the mysteries of the kingdom. We learn to hear God's voice, the language of the Spirit, and suddenly the divine flow of creativity and empowerment become normal. We are living from a life in the Spirit—as God always intended.
I first learned this concept experientially while praying with our former pastor and others in Florida nearly 30 years ago.Jim would lead our small group in worship, then while playing softly on his guitar, we would begin to pray as the Spirit led. After doing this for just a little while, I began to learn how God was communicating to me; which, is mostly through impressions and visions.
Soon after, God prompted me to get my own guitar and learn how to worship and commune with Him by myself. While I never became proficient in my guitar skills, I learned the value of worship and communion with God—both individually and corporately. It has transformed my life. Today, I just listen to worship music to worship and pray, or I quietly worship without music and pray. The central component for me has been, like David, desiring to be in the presence of God—worship helps bring me into His presence.
Learning how to worship the Lord consistently has brought me into a greater awareness of his presence and glory.
Worshipping and abiding in God's presence have also activated the teaching and revelatory gifts in my life, stronger gifts than my musical abilities. But equally important as singing and worshipping God, is the revelation that how I live my life is worship, being faithful to His purpose. I encourage you, become passionate about your worship and your pursuit of God's presence—destiny is discovered here!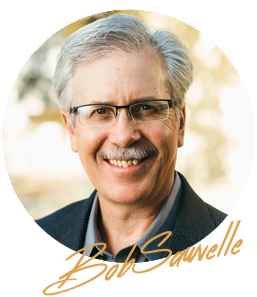 For a more in-depth look at this topic, watch the Passion Church message: Destiny Discovered, Part 7:

Copyright secured by Digiprove © 2018