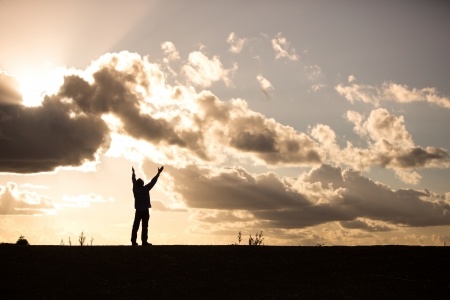 One night, I was awakened with a Rick Pino song going through me, "Put on the garment of praise for the spirit of heaviness… the oil of joy for sorrow…" a song inspired by Isaiah 61:3.
To console those who mourn in Zion,
To give them beauty for ashes,
The oil of joy for mourning,
The garment of praise for the spirit of heaviness;
That they may be called trees of righteousness,
The planting of the Lord, that He may be glorified.
I looked at the clock and it was 3:20am, I heard the Lord say "Ephesians 3:20." Now, Eph. 3:20 says,
Now to Him who is able to do exceedingly abundantly above all that we ask or think, according to the power that works in us …
to Him be glory in the church by Christ Jesus to all generations, forever and ever. Amen.
That phrase in verse 20, "according to the power that works in us" is significant. Power here is from the Greek 'kratos,' which means "manifested dominion." You see, it's the manifested dominion of Christ working in us that brings about the "exceedingly abundantly" in our lives.
So as I lay in bed meditating on this, I then heard the Lord say this:
My manifested dominion is released through your life as you stay in a place of praise.
Put on the Garment of Praise
Listen church, this is HUGE! When we choose to praise, keeping our focus on Christ and His majesty and glory, His dominion and power begins to work through us to change our situations – above and beyond what we can ask or think! We all know that prayer is important, but I think too often we let life's circumstances rob us of our praise. That's why Paul said in Ephesians 5:18,19 to
be filled with the Spirit, speaking to one another in psalms and hymns and spiritual songs, singing and making melody in your heart to the Lord.
Paul & Silas understood this; we read in Acts 16 how they were in prison in Philippi, and in verse 25 it says that,
at midnight Paul and Silas were praying and singing hymns to God, and the prisoners were listening to them.
They were falsely accused, beaten, and in chains in this prison. They were suffering, hurting, and in the natural it didn't look good. They weren't praising God FOR the prison, or the hardships, but they were praising Him because He is worthy, and they knew that 'kratos' power – manifested dominion – is released when we praise God IN ALL THINGS!
Guess what happened next? In verse 26 it says that,
Suddenly there was a great earthquake, so that the foundations of the prison were shaken; and immediately all the doors were opened and every one's chains were loosed!
The manifested dominion of Christ broke not only their chains but the chains of all the prisoners! That earthquake shook the foundations of the prison to the core. Jesus wants to break the foundations of the prisons that many are in, He wants to break the chains that are causing suffering, pain, and hardship in your life and in the lives of others.
Put on the garment of praise, despite what you see, what you feel or think. Choose to get lost in worship of the King of Glory and watch His power be released in your midst!
Copyright: daynamore / 123RF Stock Photo