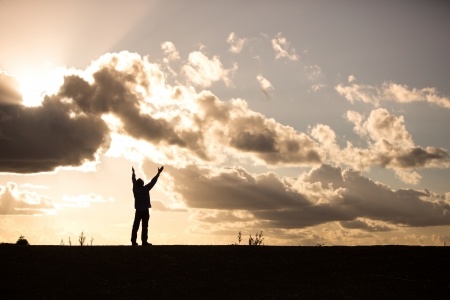 There is a story of a Roman military officer, a centurion, that came to Jesus on behalf of a servant of his, who was laying at home paralyzed (Matthew 8:5-13). The centurion pleaded with Jesus to come and heal his servant, and Jesus said to him, "I will come and heal him."
No hesitation, no excuses on the part of Jesus, simply "I will come and heal him." The centurion displays his loyalty to his servant, and Jesus in turn shows His compassion and loyalty to this stranger in behalf of his friend.
Only Speak a Word
Suddenly, the centurion answers Jesus and tells Him that he isn't worthy for Jesus to come to his home, but to "only speak a word and my servant will be healed." He recognizes that Jesus is under authority, and being a military leader who has people under his command, understands that simply giving a command or "word" to his people will be obeyed without hesitation.
In this moment, when he could have had Jesus come to his home, he expresses his faith in the authority that Jesus walks in – present or absent. "Just say the word Jesus; I know that my beloved servant will be healed upon the authority of Your word!" What faith and confidence in God! Jesus marvels at the centurion's great faith, and tells him "Go your way; and as you have believed, so let it be done for you," and the servant was healed that same hour.
Heaven's Agreement
A while back, I was ministering to a large crowd of people in India, and I shared this story of Jesus and the centurion with them. We had seen many healed of various conditions and disease, and many of the people present had friends and family members who needed healing but were unable to attend. Jesus has provided for our healing through His death on the cross and resurrection from the dead. He has "sent His word to heal," and it's a free gift for us to receive, just as it's a free gift from Him to receive forgiveness of our sins. He also told us that if "two of us shall agree in prayer concerning anything on earth, it shall be done for them by My Father in heaven" (Matthew 18:19).
I shared this with the crowd, encouraging them to believe that Jesus would heal their loved ones in their homes, while we were praying and "agreeing with heaven" for their healing. Many people stood in response to this prayer, and I knew that there were friends and family being healed at that moment.
The following night, a young woman came forward to share with the crowd the testimony of her father's healing that took place the night before. Her father had become very ill with an intestinal problem several weeks prior. He was in much pain, couldn't eat and was growing weaker. She stood, believing that Jesus was healing her dad as we prayed corporately.
When she arrived home that evening, she found her father eating for the first time in weeks and pain free – he was healed from that same hour! Jesus didn't go in person, but a daughter's faith, coupled with the authority of the name of Jesus and by His Spirit, there was heaven's agreement and her dad was healed.
What's your need today? Agree with heaven, and watch what Jesus does!

Copyright secured by Digiprove © 2017