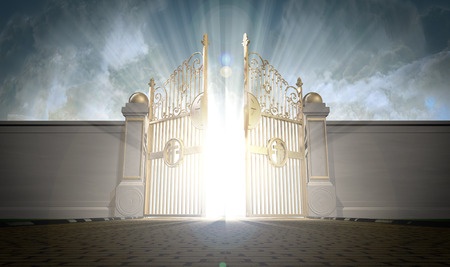 Is Jesus enough? Absolutely! We may "add to" our understanding of abundant living and prosperity, but Jesus is our life, our joy, and the reason that we have hope in this life. He is the essence of abundant living—and he has promised this for those who walk with him.
We were eating dinner with family over the weekend and I was reminded of "true prosperity of soul." The fellowship was great and the food excellent—life-giving. At one point, I interrupted the meal and our conversation to simply say, "this is abundant living." Everyone agreed.
Abundant living springs from our relationship with Jesus—not just having "more stuff."
It's all about Jesus, our life in him, and the relationships we have with others. Yes, God promises to provide all that we have need of, but our focus is upon our life in Christ and the eternal hope that we have through him.
God has put us here for a purpose—each of us has been given an assignment—our job is to discover it. God wants to give us everything we need to accomplish our purpose. Jesus came that we might be restored in every way to the Father—which includes living from a dynamic relationship with him, and each other, overflowing with his peace and joy and receiving all that we need to accomplish our mission.
Part of abundant living is the resurrection life and power of Jesus working through us as believers.
Last week while ministering in Albuquerque, NM with Pastors Alan and Gail Hawkins at New Life City church, there were people healed of back conditions. I simply shared a word how God wanted to heal back conditions today, and then shared a testimony (which is in my book Receive Your Miracle Now) of Karen in Pittsburgh who was healed of a severe back condition while I was there a couple of years ago.
After I shared the testimony, I had believers gather around those who stood for prayer for their backs to be healed. A couple of people in the room responded that they were healed after receiving prayer, and a lady in the nursery with the children was healed. Later in the day, Anastacia posted this healing testimony on Facebook:
As my husband and I worshiped streaming with New Life City this morning I was refreshed and recharged AND had my spine pop back into alignment when pastor Bob spoke a word for healing of backs and pain this morning, I stood up, and my many chronic misalignments from many injuries moved into place! Thank You Jesus and Holy Spirit moving (we live 2 1/2 hours away in a remote mountain valley in Taos county, and do not always get down to worship at our Beloved New Life City.) I have already referred some of my Beloveds in the Tucson area to come visit there at Passion! I hope to visit also as I pass through, God willing!"
Thank you Jesus! I shared this testimony in our church yesterday and had those with back conditions stand once again for healing prayer. I had others gather around them and begin to pray, five people said they were now 80% or better of their back condition. One of the people who said they received healing after the prayer, was a visitor name Kim—who was driving through on her way to Victoria, BC. She had a back condition for 33 years and received a remarkable healing yesterday! The power of the testimony, but more importantly, Jesus—our life and essence—healed her. He is abundant life!
Life Abundantly Promised
Jesus said that He came to give life—not just ordinary existence, but life in fullness, abundance, and prosperity.
Jesus said, "The thief does not come except to steal, and to kill, and to destroy. I have come that they may have life, and that they may have it more abundantly" (John 10:10 NKJV). The English word abundantly translates from a Greek word perissos.
Paul wrote, "Now to Him who is able to do exceedingly abundantly above all that we ask or think, according to the power that works in us" (Eph 3:20 NKJV). Abundantly in this verse is also translated from perissos, and means: superabundance, excessive, overflowing, surplus, over and above, more than enough, and extraordinary.
Consider the contrast: the enemy wants to rob and destroy—God wants you to overflow excessively with his love, grace, and provision! The favor on your life draws upon the inheritance that is already yours in Christ! God releases favor to those who pursue his purpose and assignment.
Here is an old testament example of overflowing abundance. Moses was collecting offerings for the tabernacle, and the people gave a surplus—over and above—what was needed. Moses then did this, "So Moses issued a command that was proclaimed throughout the camp: "Every man and woman should stop making gift offerings for the sanctuary project." So the people stopped bringing anything more." (Exodus 36:6 CEB). There was corporate abundance as the people gave toward the vision and purpose of God.
If God would do this in the inferior old covenant, wouldn't he do this, and more, for us in the new covenant which is superior? Of course, he would!
Four Principles for Abundant Living
Principle #1: Allow Jesus to consume you.
Paul wrote a prayer to the Ephesians, "that Christ may dwell in your hearts through faith; that you, being rooted and grounded in love, may be able to comprehend with all the saints what is the width and length and depth and height— to know the love of Christ which passes knowledge; that you may be filled with all the fullness of God." (Eph. 3:17-19 NKJV).
To be filled with the fullness of God is to understand at a heart level God's love through Jesus.
It begins with surrender and is maintained through daily pursuit. Relationship with Christ is the beginning of abundant living. To know his love is the foundation for abundant living.
If you are feeling distant from God, learn to wait in his presence, at his feet like Mary did. When we are disconnected from God, pursue him afresh!
Notice, the "may dwell" phrase? Paul knew true faith and relationship with Jesus depended on followers of Jesus pursuing him. Aline your desires with his. Give yourself totally to God, God will give of Himself totally to you—beyond measure!
To know Christ intimately, to experience his love deeply, is to know the limitless of His abundant life. Simply stated, Jesus is enough, he is abundant life!
Principle #2: Understand that God's Covenant is one of Abundant Life
God's covenant with us includes abundant living. A step toward experiencing full biblical prosperity (spirit, soul & body) is to believe that it is God's highest desire for you.
John prayed, "Beloved, I pray that you may prosper in all things and be in health, just as your soul prospers." (3 John 2 NKJV) Remember, abundant living is a state of being, rooted and grounded in Christ and his peace and joy!
Proverbs states, "The blessing of the LORD makes one rich, And He adds no sorrow with it." (Prov. 10:22 NKJV) As you seek relationship with Christ—fullness of life, true riches follow—and there is no remorse or sadness with it.
Two years ago, Carolyn and I were visiting her 95-year-old Aunt Betty in Flagler Beach, FL. She was living in her beach condo then, full of life and love, creating her wood sculptors of wildlife, and helping minister to autistic children at a nearby center. She demonstrated abundant living.
God wants us to overflow in his love, goodness, and blessing. He wants us to live a life of prosperity of soul that our blessing could be a blessing to the world (Psalm 67).
I love this old covenant promise to Israel, and the principle is true for us today in the new covenant, "And you shall remember the Lord your God, for it is He who gives you power to get wealth, that He may establish (confirm) His covenant which He swore to your fathers, as it is this day" (Deut. 8:18 NKJV).
The English word power comes from a Hebrew word koach, which means divine power, divine ability, substance, wealth or divine strength to lay hold of something that is beyond our strength to lay hold of. God has given each of us divine empowerment to make a living and create wealth. We should expect increase from our work to be realized in material gain. Expect creativity, insight, even strength to do your work—the greater one lives in you! He can do exceedingly abundantly above!
Principle #3: Learn to be Content
Paul learned how to live in prosperity and to live very humbly. He learned how to be content in every situation, at peace with what God granted each day. Paul told Timothy that "godliness with contentment is great gain …"
Paul commended the Philippians for their generous support while he was in prison and states a truth about Godly contentment, "I'm not saying this because I need anything, for I have learned how to be content in any circumstance. I know the experience of being in need and of having more than enough; I have learned the secret to being content in any and every circumstance, whether full or hungry or whether having plenty or being poor. I can endure all these things through the power of the one who gives me strength" (Phil. 4:11-13 CEB).
On your road to destiny, don't grumble along the way, learn to be content in every situation as you trust God! The children of Israel were led out of bondage into their destiny only to grumble during adversity, "well, it would be better to be back in Egypt, at least we had leeks and onions there."
Thank God for every blessing and be content with what you have while you wait in faith for your dreams to be realized. Grumblers lack faith and rarely see mountains move!
Do you remember Carolyn's Aunt Betty? While we visited her, I went surf fishing across from her condo while Carolyn visited. It was a scorching summer day, and the fish weren't running or biting in the surf. I had a relaxing couple of hours by the beach despite the heat, but only caught two small fish, enough for one person to have a meal. I knew Betty liked fish, so I brought them back to her in the condo, a bit embarrassed that this was all I could catch. To my surprise, Betty was elated to have these two-small fish, she was thankful and content and couldn't wait to have her fish dinner after we left!
Paul and the early church learned how to be content with each other. Sure, they weren't problem-free, but they valued community—meeting corporately and from house to house. No church is perfect—you and I are in it! But, learn to be content and contribute!
Principle #4: Be Content but Learn to Ask God for More!
Let's look at Eph. 3:20 again, Paul declared about the power of petitionary prayer, that God would grant "…above all that we ask or think…"
Here lies a "paradox" in God's Kingdom. We need to learn to be content, free of striving and grasping for "things" and "stuff." Yet, God also challenges us to "ask for more!"
It's a heart issue—a stewardship issue. Can you be entrusted with more? What is your motive for more—do you have a Kingdom focus?
Above all that we ask or imagine—the limitlessness of God—but you need to ask.
Jesus said, "And I tell you: Ask and you will receive. Seek and you will find. Knock and the door will be opened to you. Everyone who asks, receives. Whoever seeks, finds. To everyone who knocks, the door is opened. "Which father among you would give a snake to your child if the child asked for a fish? If a child asked for an egg, what father would give the child a scorpion? If you who are evil know how to give good gifts to your children, how much more will the heavenly Father give the Holy Spirit to those who ask him?"(Luke 11:9-13 CEB)
Hmmm, "… ask and you will receive … how much more will the heavenly Father give the Holy Spirit to those who ask him!" Sounds like an abundance to me!
The three imperatives (ask, seek and knock) are in the Greek present tense, suggesting a continuous asking, seeking and knocking. Greek for ask, (aitéo), means to request or petition one who is a superior.
There is something in the asking that releases God's power. Eph. 3:20, "…according to the power (kratos) that works in us" in and through you. Petitionary prayer places a demand on heaven. Genuine faith moves God's heart to respond. Motives are the key … are your motives kingdom focused?
In the mid-90's, Carolyn and I were youth leaders at a church in central Florida. We needed a newer vehicle for our family. But after returning from Haiti as missionaries the previous year, I had a "poverty mentality." In my effort to be a good steward of God's resources, I became a "scrooge!" It was affecting my thinking—and my family. So, when we began to pray for a mini-van for our family, at first, I felt "shame for asking." My attitude was, "well, what about the poor, they could never get a van like we desire?"
That is true, but it was false humility. You see, I was mired in religious thinking and a poverty mindset. We needed a good vehicle for our family, false humility wasn't God's abundant living for us. Don't get arrogant, but don't be falsely humble either! Once I got "over this," and we began to pray in agreement, God gave us a wonderful, newer Plymouth Voyager mini-van that we had for a few years. The vehicle was God's blessing for our family and for the ministry we were called to—others were blessed because we received God's blessing.
The Lord is good, and you are blessed when you trust him completely!
David wrote right after he reached a very low point in his life, "Oh, taste and see that the Lord is good; Blessed is the man who trusts in Him! Oh, fear the Lord, you His saints! There is no want to those who fear Him. The young lions lack and suffer hunger; But those who seek the Lord shall not lack any good thing." (Psalm 34:8-10 NKJV) Powerful declarative statements and promises—trust him!
Next week …
I want to look at another principle to live an abundant life: don't let the enemy rob you! Learning how to effectively withstand the attacks of the enemy is vital to living in the abundant life that God has ordained for you.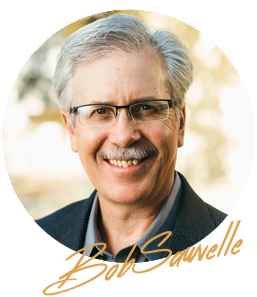 For a more in-depth look at this topic, watch the Passion Church message "Heavenly Principles for Abundant Living"