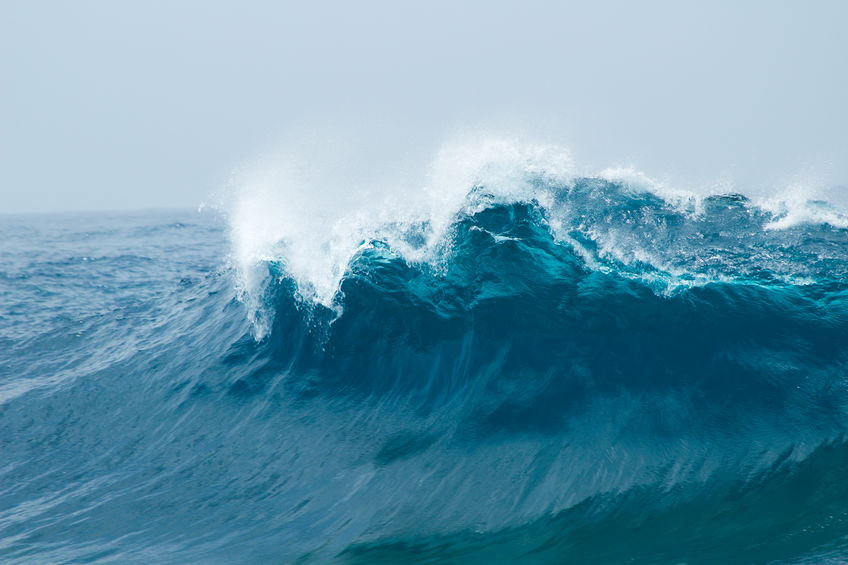 Did you know, that as a Christian, you have resurrection power attached to your life? Yes, Christ in you, the hope of Glory (Colossians 1:27). You are a dwelling place for God, still human, but united through Jesus to the divine nature and power of God (Ephesians 2:6; 2 Peter 1:4).
When you pray, you are not just uttering words, hoping God will hear. Rather, your prayer life is energized by the Spirit of God living in you. You have not only been given the authority of the name of Jesus (see Matthew 28:18-20), but you have been empowered by the Holy Spirit with God's resurrection power.
In Ephesians three, Paul prays the second of two prayers in this letter. To summarize, he prays that believers would be filled with the Holy Spirit's understanding and power (see Ephesians 3:14-21). Why? In order that every believer, the Church, would comprehend the depths of God's love through Christ and help spread the message of Jesus and the power of His resurrection in the earth (see Ephesians 3:8-12). In fact, that even the powers of darkness would know the multifaceted wisdom and power of God through the Church (see Ephesians 3:10-11).
How does this help you? When you, as a follower of Christ, understand the breadth of God's love for you, how complete your union with God through Jesus is, and how available His power is to you, you will live as an overcomer and help others become overcomers. Paul told the Roman believers that they were more than conquerors, in fact, super conquerors in Christ! (see Romans 8:37) That's resurrection life and power through Jesus and the indwelling of the Spirit. You and I are participants of God's divine nature and power.
A Promise of Power
Let's look at Ephesians 3:20 closely.  Paul writes, "Now to Him who is able to do exceedingly abundantly above all that we ask or think, according to the power that works in us," (NKJV).
There are three key parts in this verse. First, "exceedingly abundantly." Second, "above all that we ask or think." And thirdly, "according to the power that works in us." Let's look at each of these parts separately.
Exceeding Abundance
"Now to Him who is able to do exceedingly abundantly…" Abundantly is from the Greek word perissos. It means: Superabundance, excessive, overflowing, surplus, over and above, more than enough, extraordinary, above the ordinary, more than sufficient. I like superabundance and excessive! To say that God is "over the top" is an understatement.
In John 10:10, Jesus said, "I have come that they may have life, and that they may have it more abundantly." (NKJV). Abundantly is from the same Greek word, perissos. Jesus said that He came to give life—not just ordinary existence, but life in fullness, abundance, and prosperity. Paul said in Ephesians three that the understanding, through the Holy Spirit, of God's love brings us into the fullness of God. That's the beginning of superabundant living! The basis for God's power to move in your life is an understanding of His love for you.
God's promise to us is one of abundant living. It begins with receiving God's love through Jesus, and then allowing the Holy Spirit to deepen that love in your heart. To be ravished by His love and to allow His love to consume you is the beginning of His resurrection life and power flowing through you. Eighteenth-century theologian Adam Clarke said this, "God is omnipotent, therefore He is able to do all things, and able to do superabundantly above the greatest abundance."
Beyond What We Ask or Think
Paul continues in Eph. 3:20 with "…above all that we ask or think…"  Think for a moment of the rich inheritance and realms of glory that are available to us through Christ. Yet, what we do know, what we have seen and experienced, is limited in view of God's glory yet to be revealed! There is so much more in God available to us—both in the future and now presently!
Paul in writing to the Corinthian believers, quotes from Isaiah,
Eye has not seen, nor ear heard, nor have entered into the heart of man the things that God has prepared for those who love Him. But God has revealed them to us through His Spirit. For the Spirit searches all things, yes, the deep things of God." (1 Corinthians 2:9-10 NKJV).
Verse nine is quoted frequently at funerals, describing the glory awaiting us in eternity. But verse ten describes God revealing to us NOW, through the Spirit, the vastness of God and what is accessible for us on this side of eternity!
Not only is God able to do for us beyond what we can ask or imagine, but He is willing to do the limitless for us!  Just this week, a woman in our congregation shared how God healed her neck. She had been in an accident several years ago, which damaged her back and neck. She has had 19 surgeries, with limited success. Her neck was in constant pain and she had limited mobility.
The doctor wanted to do another surgery to help her. She received prayer two weeks ago for healing. During the prayer ministry, she felt heat on her neck. She then tried moving her head and neck and discovered that all the pain was gone and she had normal movement again! She plans on seeing the doctor soon, but she is pain-free and no longer desires the surgery. Believe that this year is a year for the blind to see, the deaf to hear, and the lame to walk! He is a God of miracles, believe for the "beyond what you could ask or think!"
Jesus, in teaching on prayer in Luke 11:9-13, told the disciples and us to ask, seek, and knock—that God would answer the request.  Don't underestimate the power of prayer! Jesus promises to give the Holy Spirit freely and abundantly in response to faith-filled prayer. In this passage, the imperative words ask, seek, and knock are in the present tense of the Greek, suggesting a continual asking, seeking, and knocking. Don't give up—God is faithful to answer your prayer.
The word "ask" is from the Greek aitéo, which means to request or petition of a superior. The word denotes firm asking without hesitation, not "commanding" God, but confidently presenting a requisition whose items He longs to distribute! I was in the military; when you presented a legitimate requisition to someone in authority, every effort was made to fulfill the requisition. Don't you think our loving, benevolent Father longs to fulfill your legitimate needs? Absolutely! His word consistently confirms this truth.
Jesus encourages prayer by reminding us of the nature of the One we are praying to. If faulty human parents will meet the real needs of their children, instead of deceiving them with harmful gifts, how much more can we expect our heavenly Father to bless us with the best gift, the Holy Spirit, as well as the lesser gifts. Our primary needs are spiritual, and a proper relationship with God through the Holy Spirit is the ground of assurance that He will provide both spiritual and material needs.
Prayer is supposed to be a time where we catch His heart and see from His perspective. In prayer I gain divine perspective, an experience where I get to participate in my inheritance. Not only is God able to do for us beyond what we can imagine, but He is willing to do the limitless for us! Only believe!
The Power that Works in Us
Ephesians 3:20 concludes with, "…according to the power that works in us." All that God can do, and all that He has promised to do, will be done by the power of the Holy Spirit who works mightily in us! The Holy Spirit acting with energy in our hearts! God's power is not "out there" somewhere, but right within us through the Holy Spirit.
Jesus said of the Holy Spirit, that "He dwells with you and will be in you." (John 14:17 NKJV) Paul explained to the Colossians, that he labored "according to His working which works in me mightily." (Colossians 1:29 NKJV) Not Paul's effort alone, but God working through him. Working is from the Greek energia, which means working, action, operative power.
Look what David declares in Psalm 18:29, "For by You I can run against a troop, by my God I can leap over a wall." (NKJV)  How?  By the power of the Holy Spirit!
The prophet Zechariah declares to Zerubbabel,
So he answered and said to me: "This is the word of the LORD to Zerubbabel: 'Not by might nor by power, but by My Spirit,' Says the LORD of hosts. 'Who are you, O great mountain? Before Zerubbabel you shall become a plain! And he shall bring forth the capstone With shouts of "Grace, grace to it!'" (Zechariah 4:6-7 NKJV)
How?  By the power of the Holy Spirit working through Zerubbabel! These are Old Testament examples of what should be the norm for a New Testament follower of Jesus.
As New Testament believers, each one of us is indwelt by the Holy Spirit, and God is waiting to release through us all that we have need of to accomplish His purposes! Provision, miracles, healings—God is willing! He wants to work "out there" beyond anything we can think, but it depends on the "in us."
Remember in Acts three, Peter and John are going into the temple and there is a lame man begging. Peter looks at him and declares, "Silver and gold I do not have, but what I do have I give you: In the name of Jesus Christ of Nazareth, rise up and walk." He took him by the hand and lifted him up, and immediately he was healed!  This resurrection power is for every follower of Jesus!
Jesus said, "Most assuredly, I say to you, he who believes in Me, the works that I do he will do also; and greater works than these he will do, because I go to My Father."  (John 14:12 NKJV) And in Mark, "And these signs will follow those who believe, In My name they will cast out demons, they will speak with new tongues… they will lay hands on the sick and they will recover." (Mark 16:17-18 NKJV)
Signs will follow those who believe, open to all Christians, not just a select few! God uses ordinary believers full of faith and the Holy Spirit to do the extraordinary in His Name! How? By the power that works in us! It's about discovery of the One that we have within—let Him have His way!
The Holy Spirit is without measure, but does He have a vessel to flow through without hindrance? God is waiting to release through you all that you have need of to accomplish His purposes, but have you been renewed to the impossible, redefined for miracles? God wants to show Himself strong through us to preach the gospel to the poor, bring healing to the sick and brokenhearted, deliverance to the captives and to demonstrate His love and greatness in this hour. John Lake, prominent twentieth-century healing minister said, "Christ has a purpose in you!  His purpose in you is to reveal himself to you, through you and in you!"
Church, let us take hold of the reality that God is desiring to do greater things in our midst than we have ever dreamed of by the power of the Holy Spirit who is with us and in us! Let's allow Him to renew our thinking, redefine our inner man, and allow Him to change the world "out there" through us!
For more information, watch the Passion Church video "The Power That Works Within Us" –

Copyright secured by Digiprove © 2017