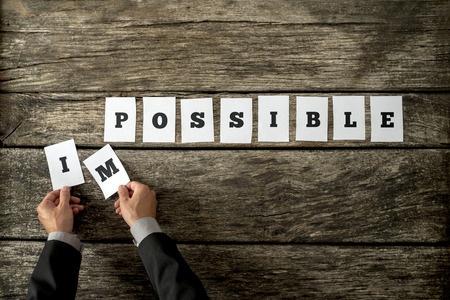 Our modern 21st-century culture is skeptical — to say the least. Whether it's a politician, the news media, a college professor, a pastor, or even God, people tend to doubt more than they believe.
A Super Win!
For example, prior to the 51st Super Bowl last Sunday, if someone would have told you that a team would win that was behind by 25 points—would you have believed? Probably not, it's never happened before! You might have thought, "That's a statistical impossibility!" (Honestly, I would have thought that same thing!)
Yet, the New England Patriots did just that—winning in overtime 34-28 over the Atlanta Falcons—after being down by 25 points earlier in the game. I'm not saying it was a "God-ordained" miracle that brought the Patriots a victory, although some Patriot fans may dispute this! Rather, I'm simply highlighting how skeptical our thinking is when it comes to impossible "odds." By the way, congratulations to the Patriots, perseverance in the face of impossibility, earned you the title of Super Bowl Champions once again.
Impossibility Breeds Miracles
Impossibility is the foundation for God to work miracles. However, we often look at the "statistical probability" or the "facts" of a situation and assume it's no use and lose hope. Further, because of the skepticism in our time, we believe little of what others tell us. We become negative, cynical, and become like doubting Thomas. For many Christians, we are simply "unbelieving believers."
However, God's word is true and Jesus is the truth. Facts, statistics, and impossible situations are subject to change—God is always greater. Jesus is the same yesterday, today, and forever (Heb. 13:8). God has never stopped working miracles in impossible situations. Expectancy is an element of faith and positions you for miracles. God can, and often does, work miracles where there is no faith, but the scripture also reveals that the greater the faith and expectation for miracles—the more miracles occur. He is a God of miracles.
Poolside Healing Miracle
The next time you're on vacation, perhaps using the swimming pool at the hotel or resort, think of someone getting healed! Again, you might be thinking, "Impossible!" Not with Jesus.
In John 5:1-9, there is an intriguing poolside miracle story. We read,
Now there is in Jerusalem by the Sheep Gate a pool, which is called in Hebrew, Bethesda, having five porches. In these lay a great multitude of sick people, blind, lame, paralyzed, waiting for the moving of the water. For an angel went down at a certain time into the pool and stirred up the water; then whoever stepped in first, after the stirring of the water, was made well of whatever disease he had.

Now a certain man was there who had an infirmity thirty-eight years. When Jesus saw him lying there, and knew that he already had been in that condition a long time, He said to him, "Do you want to be made well?" The sick man answered Him, "Sir, I have no man to put me into the pool when the water is stirred up; but while I am coming, another steps down before me." Jesus said to him, "Rise, take up your bed and walk." And immediately the man was made well, took up his bed, and walked. (NKJV)
John records that there is a large multitude of hurting people who need healing. The needs of humanity then, and now, are great. One man, lame for 38 years, is miraculously healed.
God's Nature is To Heal
God's will has always been to heal and restore broken humanity. In Exodus 15:26, God declares, "I am the Lord who heals you." God is Jehovah Rapha, the Lord who heals. It is a covenant name and within the nature of God to heal. In Psalm 103:2-3, the writer declares, "Bless the Lord, O my soul, and forget not all His benefits: Who forgives all your iniquities, Who heals all your diseases."
Jesus demonstrated God's healing covenant and nature. Fully God and yet fully human, Jesus healed all who came to Him, as the Son of Man, not as the Son of God.
Luke records in Acts, "How God anointed Jesus of Nazareth with the Holy Spirit and with power, who went about doing good and healing all who were oppressed by the devil, for God was with Him." (Acts 10:38 NKJV) Notice how Jesus healed because of the anointing of the Holy Spirit upon His life. Jesus was the Christ, or Messiah, because of the anointing of the Spirit. Dependent upon the Spirit, Jesus gave us an example how we too, filled and dependent upon the Holy Spirit, can heal the sick.
Notice also how Jesus healed "all." No disease, no illness, no situation too great for God. Matthew records this as well of Jesus, who "…healed all who were sick." (Matt. 8:16-17) Jesus was anointed by the Spirit, and so are we! Jesus declared in John 14:12, "the works that I do he will do also…" and in Mark 16:18 "they shall lay hands on the sick, and they shall recover…" As a follower of Christ, you have been anointed by the Holy Spirit to pray for the sick with the expectation that God will heal.
Are you waiting for a sign?
In John's account of the healing miracle at the Bethesda pool, he states that the multitude were, "…waiting for the moving of the water." (John 5:3) Jesus hadn't been to the cross yet, His atoning work for our sin and sickness was not yet fulfilled. However, now through Jesus, the "water has been stirred," and healing is available for all. God's word and the finished work of Christ is our basis for healing…not a sign or lack of experience.
Unfortunately, many today are like the man waiting by the pool, waiting for something to happen—but Jesus happened! He went to the cross, rose from the dead, and is ascended on high—the water has been "stirred" and a sign given. The people at the Bethesda pool had an "expectation" for healing.
However, not everyone in Jesus' time had faith for a miracle. In Mark's gospel, we read of Jesus in Nazareth, "Now He could do no mighty work there, except that He laid His hands on a few sick people and healed them. And He marveled because of their unbelief." (Mark 6:5-6 NKJV) Their unbelief prevented God's miracle power to work. Belief and expectation are important in God's miracle power.
Do You Want to Be Well?
Jesus saw the man with the infirmity 38 years and knew he had been there long time. He knew the condition the man was in, and He knows the condition you are in today. Like the man at the pool, Jesus has great love and compassion for you too. He is drawing you to Himself, and He sees every detail of your life. He asks the man, "Do you want to be made well?" Simple question, but hard for some to answer.
Often, many people are so accustomed to their illness or situation, they have a hard time believing the circumstance can change. All that is needed is a small amount of expectation and faith, trusting God and His greatness.
The man with the condition for 38 years responds to Jesus, "I have no man…" He was looking to a man when he should have been looking to Jesus. Look to Jesus, not a man or for a sign! Jesus, as the Son of Man, anointed by the Holy Spirit, speaks with authority, and tells the man to rise and walk. As a follower of Jesus, you have the same authority in His name.
Vacation Healing
A couple of years ago while on vacation with my family, I was using the hot tub at the resort. An older gentleman also got into the hot tub with limited mobility in his right leg. I began to visit with him and eventually asked him about his leg. He explained to me that he was a retired policeman and had injured the right knee and needed it replaced. He then lamented that he was unsure if he could play golf the next morning he was in so much pain.
I explained to him that I was a follower of Jesus, and that He still heals today through ordinary believers. I asked if I could pray for his knee, he had that "skeptical look," but was desperate enough to play golf he let me pray for him—in the hot tub at the resort! I asked him to move it, to check it out, to see if he had greater mobility and less pain.
He now had a surprised look and said, "All the pain is gone and I can move it again normally!" I said, "Great, Jesus just healed you, He loves you and cares about you." To that the man said, "Yes, I know He does, and I plan on telling others what He did for me!" I encouraged him to go play golf the next day. Two days later, the man found me in the restaurant and told me how well his knee was doing and how great a golf game he played.
God is a worker of miracles—Jesus is still the same! He is confirming His Gospel by signs and wonders, healings, and miracles. Just believe, don't allow the skepticism of our age affect your faith in God's miracle power.

Copyright secured by Digiprove © 2017