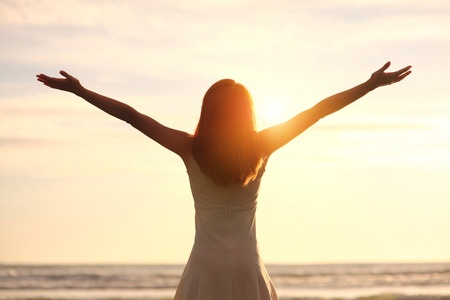 During a corporate prayer time, one of our young adults received this prophetic word: She saw a vision of a boat that was leaving a harbor. All of our congregation was in it and we had unfurled our sails so that we could catch the wind of the Spirit.
We started to move, but some were angry and wanted to leave in their own long boats. She heard the Lord say "Does a man get angry at the wind? No, because it gets him where he needs to go. So it is with My Spirit – whomever is willing to allow Me to rule, I will place them in a position that will connect them with their destinies."
Keep Your Eyes on Jesus
I want to encourage you to "keep your eyes on Jesus" – the times require it! Isaiah 26:3 says:
You will guard him and keep him in perfect and constant peace whose mind [both its inclination and its character] is stayed on You, because he commits himself to You, leans on You, and hopes confidently in You." (Amp)
Our ability to keep our focus & trust in God during difficult times will determine whether we walk in His peace, or allow worry and fear to dominate our thinking.
Perhaps you've heard it said that "Fear is False Evidence Appearing Real!" Fear, as Bill Johnson says, is "faith in an inferior realm!" Faith is anchored in an unseen realm (the Kingdom of God) that is more real than the natural world that we see and live in.
There was a generation of Israelites who were not able to enter their promised land because the natural circumstances caused them to fear and doubt the faithfulness of God. So, they wandered in the desert for 40 years and died there never receiving the inheritance that God had already given them. They were unable to reach their destiny.
Can you see your promised land just ahead? I can see something on the horizon that is more glorious than we have ever known; it's so close I can hear the sound; how about you? It's been said that "hope is the joyful expectation of good." Do you have a joyful expectation of good? All that God has said in His word, He will do, He is faithful to the end, only believe!
I love what Isaiah 60:1 says in the Amplified Bible
ARISE [from the depression and prostration in which circumstances have kept you–rise to a new life]! Shine (be radiant with the glory of the Lord), for your light has come, and the glory of the Lord has risen upon you!
Take God at His Word
You might be thinking, "How do I get out of the depression and circumstances that have kept me down?" You start by taking God at His word, and trusting what He has said about you. He says that His glory is upon you, that His Spirit is in you "Christ in you the hope of glory" Paul explains in Col. 1:27.
Don't allow worry and fear to dominate your thinking. Proverbs 12:25 says that "worry in the heart of man causes depression." Worry, doubt, or fear rolling around in our thoughts and meditated upon in our hearts will only cause us to become discouraged and eventually depression.
Recognize Your Position in Christ
Secondly, recognize your position in Christ.
And He raised us up together with Him and made us sit down together [giving us [a]joint seating with Him] in the heavenly sphere [by virtue of our being] in Christ Jesus (the Messiah, the Anointed One). Eph. 2:6
We are one with Christ, and in Him are seated at the right hand of the Father. You don't have to strive to come into His presence, nor strive to bring your prayer before Him.
The writer of Hebrews 4:16 says:
Let us then fearlessly and confidently and boldly draw near to the throne of grace (the throne of God's unmerited favor to us sinners), that we may receive mercy [for our failures] and find grace to help in good time for every need [appropriate help and well-timed help, coming just when we need it].
We have fearless, confident access to God Almighty because of what Jesus has done for us!
Commune with God
Third, spend time in prayer and communication with God; you have open access to Him as a Christian. Phil. 4:6,7 says:
Do not fret or have any anxiety about anything, but in every circumstance and in everything, by prayer and petition ([a]definite requests), with thanksgiving, continue to make your wants known to God. And God's peace [shall be yours, that [a]tranquil state of a soul assured of its salvation through Christ, and so fearing nothing from God and being content with its earthly lot of whatever sort that is, that peace] which transcends all understanding shall [b]garrison and mount guard over your hearts and minds in Christ Jesus.
Prayer is simply knowing that you have the right and privilege to communicate with God, and He promises that He will answer your prayer. Don't get discouraged or grow weary when you don't see the answer right away.
Rather, see with the eye of faith that the answer is coming, for God is faithful. This is why Jesus could say in Mark 11:24 "For this reason I am telling you, whatever you ask for in prayer, believe (trust and be confident) that it is granted to you, and you will [get it]."
Stay in Constant Praise
Lastly, stay in an attitude of praise and worship to God. Isaiah 61:3 says
To grant [consolation and joy] to those who mourn in Zion–to give them an ornament (a garland or diadem) of beauty instead of ashes, the oil of joy instead of mourning, the garment [expressive] of praise instead of a heavy, burdened, and failing spirit–that they may be called oaks of righteousness [lofty, strong, and magnificent, distinguished for uprightness, justice, and right standing with God], the planting of the Lord, that He may be glorified.
Praise lifts off of us that heavy oppressive spirit that would try to take our focus off of the greatness of God and His faithfulness to deliver us. Praise also releases God to move in power in our midst, literally releasing the angelic host to come and war on our behalf.
The enemy knows this, so he works over time to keep us silent in praise, worship and prayer. Psalm 22:22 says that "I will declare Your name to my brethren; in the midst of the congregation will I praise You." The very name and the power of His name is released in our midst when we praise Him. Psalm 149 tells us that the high praise in our mouths is like a two-edged sword in our hands to execute vengeance on our enemies.
Friends, you have the privilege as a believer to execute the vengeance of God on those spiritual forces that come against us. I encourage you, use your praise to glorify Him, and watch what He does to those enemies who have arrayed themselves against you!
Blessings,
Bob