Recently, a friend went through a difficult job layoff and subsequent job search that tried his faith and trust in God. Having gone through a similar trial in his past, he determined to go through this season not blaming God nor getting bitter toward Him or others for the situation. As he shared his testimony not long ago, he explained that he and his family had their "negative" moments during the several months of unemployment, but they were few.
He had days that were full of faith and trust in God as he waited upon Him, and he had days where he allowed discouragement and rejection to affect him. However, he didn't blame God or others, refused to become bitter, and constantly reminded himself of God's care and goodness. In the end, God not only provided another job, but gave him a significant career advancement and pay raise.
Learning to Wait Upon God
Truly, nothing is impossible with God as we learn how to trust him and wait upon Him to guide and provide for us. Learning how to wait upon God, when situations are overwhelming and answers seem delayed is a key to walking a victorious Christian life.
In the book of Nahum 1:7 the scripture says that:
The LORD is good, a stronghold in the day of trouble; and He knows those who trust in Him.
To believe that God is good through all of life's situations is essential to walking in peace and security in this life. Knowing that God is good is a key element to fully trusting in Him.
Trusting in His Goodness with Renewed Minds
One definition of the word trust is "a firm reliance on the integrity, ability, or character of a person or thing; confident belief; faith". Our trust, confidence and reliance upon the Lord is based upon a revelation of His character. Without an increasing revelation of God's goodness toward us, we may fall back into worldly thinking that will limit our ability to believe God to act on our behalf.
When the trials and circumstances occur in this life, without a firm belief that God is always good and always for us, we may quickly begin to view our circumstances from a worldly perspective. In Proverbs 29:18 we are told that
without prophetic revelation, we cast off restraint (or run wild).
Our minds will wander, even run to wrong conclusions about God and His nature without a deepening understanding of the character and goodness of God toward us.
Proverbs 3:5,6 states
Trust in the LORD with all your heart, and lean not on your own understanding; in all your ways acknowledge Him, and He shall direct your paths.
We're instructed not to lean on our understanding. Our understanding needs to come by the Spirit of God, not from a worldly, un-renewed mind. The un-renewed mind will always conclude we are unable to trust God, because it looks at the natural circumstances and sees from a worldly perspective and not from God's perspective. If we require complete understanding of God before we respond to Him, we've brought God down to our level and moved ourselves out of the faith realm.
Spend Time with Him!
A vital key to renewing our minds, developing strong trust in God and a deeper understanding of His goodness is to spend time daily with Him in worship, prayer and the Word.  King David was a great King & warrior, and God said of him that "he is a man after My own heart." David had become a lover of God, someone who spent time with God in worship and prayer with God.
By the way, real prayer is communion, two-way dialogue, where we learn to hear from God as much as we petition Him. Through this lifestyle, David became confident in God, and knew that God would deliver him in all of life's situations.
David said of the Lord in Psalm 27:4,5
One thing I have desired of the LORD, that will I seek: That I may dwell in the house of the LORD all the days of my life, to behold the beauty of the LORD, and to inquire in His temple.  For in the time of trouble He shall hide me in His pavilion; in the secret place of His tabernacle He shall hide me; He shall set me high upon a rock.
David was convinced he would see the goodness of the Lord in his life and therefore was able to patiently wait upon God despite circumstances that were contrary to him. In Psalm 27:13 David declares
I would have lost heart, unless I had believed that I would (will) see the goodness of the LORD in the land of the living.
This verse has become a "life verse" for many, one that has guided and sustained them through difficult seasons. Our heavenly Father is a loving, benevolent God who desires to bless us with His goodness, comfort, peace and joy – we must be convinced of this to patiently wait upon God.
David went on to say in verse 14:
Wait on the LORD; be of good courage, and He shall strengthen your heart; Wait, I say, on the LORD!
David, from His revelation of God's goodness, knew that despite the darkness of the circumstances he may be in, he could confidently wait for God to come through.
Patience as You Wait
The Hebrew word for wait is qawa (kaw-vah). It means to wait, to look patiently for and to bind together by twisting. Let's look at the aspect of patience with qawa, and then we'll look at binding together with this word.
Hebrews 6:12 states
that you do not become sluggish, but imitate those who through faith and patience inherit the promises.
And in the Amplified version, the same verse reads
In order that you may not grow disinterested and become [spiritual] sluggards, but imitators, behaving as do those who through faith (by their leaning of the entire personality on God in Christ in absolute trust and confidence in His power, wisdom, and goodness) and by practice of patient endurance and waiting are [now] inheriting the promises.
Just as David had learned, the writer of Hebrews explains that as we learn to wait upon God through patient endurance, and by leaning on the revealed nature of God through Christ, we will inherit His promises – the very answers to our prayers and changes to our circumstances. Patience undergirds our faith, it is a key fruit of the Spirit needed to maintain our poise through the trials of this life and as we wait for the manifestation of our faith in the natural realm. Faith is substance, evidence of that which is to come. Patience sustains us while we wait for the manifestation of our faith.
Binding Together with the Lord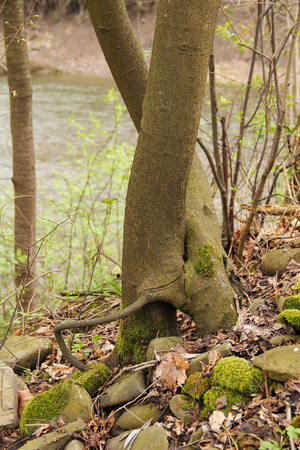 Perhaps the most interesting understanding of this word qawa is that of binding together by twisting. There are trees whose trunks grow up from the same roots but they are twisted together or intertwined. This illustrates the binding together by twisting of the word qawa. When we "wait" upon the Lord, we are binding ourselves to Him, we are twisting ourselves around His character, nature, and promises; much like the tree whose trunks are twisted and bound together in an inseparable fashion.
In Isaiah 40:29-31 we see qawa used again in verse 31. The Amplified Bible reads:
He gives power (koach) to the faint and weary and to him who has no might He increases strength [causing it to multiply and making it to abound]. Even youths shall faint and be weary, and [selected] young men shall feebly stumble and fall exhausted; But those who wait (qawa) for the Lord [who expect, look for, and hope in Him] shall change and renew their strength and power; they shall lift their wings and mount up [close to God] as eagles [mount up to the sun]; they shall run and not be weary, they shall walk and not faint or become tired.
The word power in verse 29 comes from the Hebrew word koach which means "divine power, ability, substance, wealth or divine strength to lay hold of something that is beyond our strength to lay hold of." We could read verse 29 this way "He gives power (koach), divine ability, substance, wealth or strength for those who are weak, exhausted or weary or even infirmed, which is the inability to produce results."
In Deuteronomy 8:18 Moses states that
… for it is He who gives you power (koach) to get wealth… that He may establish (confirm) His covenant with you …
God gives koach to get wealth for those who wait upon Him. However, it's much more than wealth. God gives koach, or divine ability, to receive healing, deliverance, and restoration to those who wait upon Him. In verse 31 "those who wait" is the Hebrew word qawa; which, again means to bind together by twisting.
Something happens inside of you when you bind yourself to the Lord through the process of waiting upon Him. There is a renewing, an altering, a change that takes place inside of us. We become more like Him, like Christ by the power of the Holy Spirit. We begin to function out of His nature, out of His power, out of His faith. There is a divine exchange that takes place, which causes us to break forth into the power of heaven, far beyond earthly limitations.
Often, some of your most intuitive, creative moments will come to you by the Spirit as you qawa, bind yourself, and wait on the Lord. You've qawaed (bound) yourself with the Lord and His koach (divine power) is released in you and changes you because the Kingdom of God is in you. The King and His Kingdom begins to work in and through your life. Your inner world is being transformed, it's being shifted and suddenly "They shall renew their strength."
Your capacity to reproduce, your abilities, your strength, your substance, your wealth shifts under the influence of Heaven. When we stay in God, patiently waiting upon Him, divine encounters happen, the koach of God comes and there's a transformation in our lives. That's how God can take ordinary people and suddenly give them the capacity to fund the Kingdom of God supernaturally, or to see impossible situations change or overcome.
May You Wait Upon the Lord!
May you wait upon the Lord, be strengthened by His divine power and see the impossible situations change as you bind yourself to Him! Psalm 27:14 "Wait on the LORD; be of good courage, and He shall strengthen your heart; Wait, I say, on the LORD!"
Blessings,
Bob